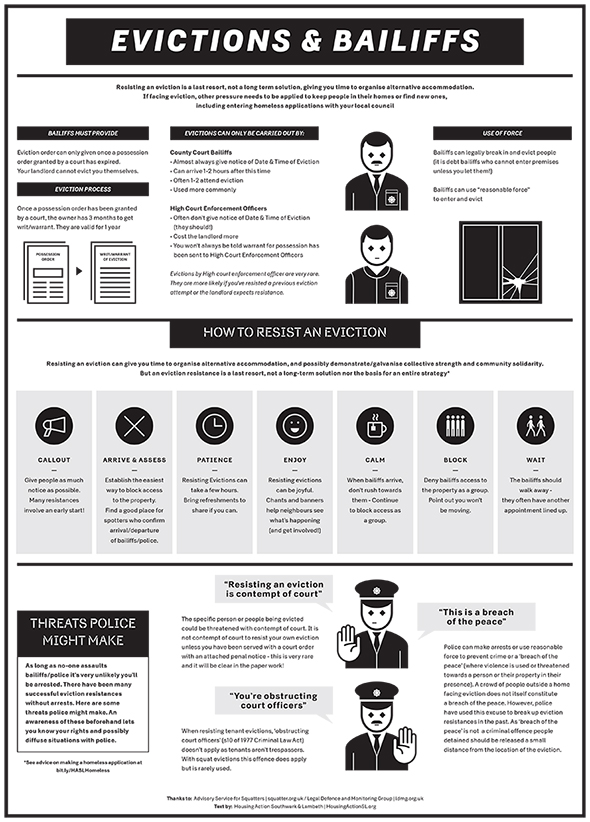 Click Image for High-Resolution PDF
Resisting an eviction is a last resort, not a long term solution, giveing you time to organise alternative accommodation. If facing eviction, other pressure needs to be applied to keep people in their homes or find new ones, including entering homeless applications with your local council 
BAILIFFS MUST PROVIDE
Eviction order can only given once a possession order granted by a court has expired.
Your landlord cannot evict you themselves.
EVICTION PROCESS
Once a possession order has been granted by a court, the owner has 3 months to get a writ/warrant. They are valid for 1 year
EVICTIONS CAN ONLY BE CARRIED OUT BY
County Court Bailiffs
Almost always give notice of Date & Time of Eviction
Can arrive 1-2 hours after this time
Often 1-2 attend eviction
Used more commonly
High Court Enforcement Officers
Often don't give notice of Date & Time of Eviction (they should!)
Cost the landlord more
You won't always be told warrant for possession has been sent to High Court Enforcement Officers
Evictions by High court enforcement officer are very rare. They are more likely if you've resisted a previous eviction attempt or the landlord expects resistance.
USE OF FORCE
Bailiffs can legally break in and evict people (it is debt bailiffs who cannot enter premises unless you let them!)
Bailiffs can use "reasonable force" to enter and evict
HOW TO RESIST AN EVICTION
Resisting an eviction can give you time to organise alternative accommodation, and possibly demonstrate/galvanise collective strength and community solidarity. But an eviction resistance is a last resort, not a long-term solution nor the basis for an entire strategy – See advice on making a homeless application here.
CALLOUT
Give people as much notice as possible. Many resistances involve an early start!
ARRIVE & ASSESS
Establish the easiest way to block access to the property. Find a good place for spotters who confirm arrival/departure of bailiffs/police.
PATIENCE
Resisting Evictions can take a few hours. Bring refreshments to share if you can.
ENJOY
Resisting evictions can be joyful. Chants and banners help neighbours see what's happening (and get involved!)
CALM
When bailiffs arrive, don't rush towards them – Continue to block access as a group.
BLOCK
Deny bailiffs access to the property as a group. Point out you won't be moving.
WAIT
The bailiffs should walk away – they often have another appointment lined up.
THREATS POLICE MIGHT MAKE
As long as no-one assaults bailiffs/police it's very unlikely you'll be arrested. There have been many successful eviction resistances without arrests. Here are some threats police might make. An awareness of these beforehand lets you know your rights and possibly diffuse situations with police.
"Resisting an evictionis contempt of court" – The specific person or people being evicted could be threatened with contempt of court. It is not contempt of court to resist your own eviction unless you have been served with a court order with an attached penal notice – this is very rare and it will be clear in the paper work!
"This is a breach of the peace" – Police can make arrests or use reasonable force to prevent crime or a 'breach of the peace' (where violence is used or threatened towards a person or their property in their presence). A crowd of people outside a home facing eviction does not itself constitute a breach of the peace. However, police have used this excuse to break up eviction resistances in the past. As 'breach of the peace' is not a criminal offence people detained should be released a small distance from the location of the eviction.
"You're obstructing court officers" – When resisting tenant evictions, 'obstructing court officers' (s10 of 1977 Criminal Law Act) doesn't apply as tenants aren't trespassers. With squat evictions this offence does apply but is rarely used.
Advisory Service for Squatters | squatter.org.uk
Legal Defence and Monitoring Group | ldmg.org.uk
Housing Action Southwark & Lambeth | HousingActionSL.org