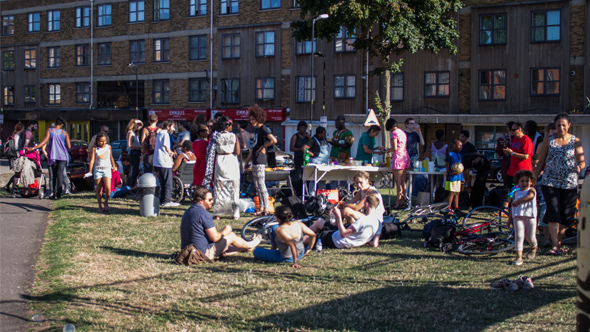 The Free Breakfast for Children Program, organised by the Black Panther Party (BPP), has a powerful legacy. Around 10,000 children were fed daily across North America through this initiative. Based on need and not ability, the Free Breakfast Program offered a glimpse into a way of living that promoted the needs of people and collective action. Unfortunately, the state recognised the power of such an initiative and the program folded as a result of state interference, harassment and institutionalisation.
Many individuals and small communities, inspired by the work of the BPP, quietly took on their own programs as a matter of necessity, whilst other groups continued to organise in a big way.  The Young Lords Organisation, a group of Puerto Rican activists in New York City, famously served free meals to over 2,000 people after occupying a church in the Hispanic community that refused to support them in providing a free breakfast program.
Closer to home and more recently, there has been a small but steady upsurge in grassroots groups centring collective eating and food provision through their social events. Digs, which organises in Hackney, offered free pizza at their recent social in April; Haringey Housing Action Group enjoyed a social picnic in May where people brought food to share together; and Our West Hendon hosted a 'bring a dish' community celebration in July.
There is a conscious effort to create new spaces and situations which challenge the interlocking oppressions and stigmas experienced by many. Grassroots food provision is increasingly part of a broader political dynamic underlying how food is sourced collectively, cleaned, cooked, prepared, enjoyed and shared, and how eating together can offer a relaxed environment for organising and mobilising.
Why
For over two years Housing Action Southwark & Lambeth (HASL) has been organising around the needs of people in our local areas, so that we can learn together, fight together and empower ourselves. We have regular meetings to discuss our housing and welfare issues, we take direct action to support each other, we hold skills and knowledge-sharing sessions, produce resource leaflets to hand out during our info stalls – and, with deepening poverty and inequality, it was a logical step for HASL to organise free lunch clubs for our members, supporters, our families, friends, neighbours, and anyone interested in HASL and what the group does. People are also very happy to bring their kids to meetings and socials and we help each other with childcare – keeping our kids occupied with cake-making, games and other activities.
All of our lunch clubs are focused on bringing together people who are facing welfare and housing problems as a result of central and local government legislation and policy. We face economic exploitation because of eye-wateringly high rents and cost of living, weak housing security of tenure, unequal access to resources, and social and economic processes of gentrification and social cleansing. During this current phase of capitalist restructuring, the difficulties people face are only getting worse. More and more people are forced into poverty every day and many can't afford to eat regularly or provide for those in their care.
People who come to the community meals are kind enough to bring fresh food for us to share, from quiche, marinated meat dishes, stews, fresh fruit, selections of cheeses and breads, to tarts, homemade cakes and chocolate fountains! We are also trying to build a network with local shops and market traders where we solicit and collect donations, so that we can sustain our monthly clubs and continue to provide the ingredients we need to cook and share food which is free, nutritious and delicious.
HASL is not a charity or a service that exists to fill in the gaps in welfare and housing provision that the state doesn't care about; it's a collective of people who share the lived experiences of trying to survive in London, keeping affordable roofs over our heads and making sure that we challenge and hold to account the institutions and those in power who are creating and implementing logics that willfully harm exploited and vulnerable people and throw them further into poverty. We are a group that is working to build a widespread movement that resists and struggles against oppressive and unequal value systems. We really are in this together and we encourage people to organise and take action!
How
We hosted our first free lunch club on Sunday 8th March 2015, at a local venue in Brixton provided by a resident from the nearby Guinness Trust Estate. We set up a facebook event page, gave out leaflets at our regular info stalls, and sent out a few tweets about the event. Lots of people came to socialise, enjoy each other's company and talk about the problems we face, whilst tucking into some tasty home-cooked grub.
The first meal was successful, so we decided to continue with our monthly free lunch clubs, hosting our second one on Sunday 26th April at Papa's Cafe in Brixton. This meal was extra special as HASL also celebrated its 2nd birthday – two years of fighting together for the housing we need and are entitled to. We enjoyed a selection of meats, vegetable skewers and cheeses on a BBQ (a BBQ we were fortunate to get from a HASL member's neighbour) and were treated to delicious pasta dishes from some great cooks in our midst, and a wide variety of hearty salads. Of course, the playground also helped to keep the kids busy!
Our more recent lunch clubs have been kindly co-hosted by our friends, the London Campaign Against Police and State Violence (LCAPSV). We had a great day at our 3rd lunch club, including lots of new faces, at a space in Elephant and Castle. There was tons of food on offer which was only possible because of the generosity of local people (we enjoyed eating burritos, with different fillings to cater for different tastes and preferences). We also had a wonderful selection of HASL-themed cakes, and the kids (and adults) had fun making and decorating cupcakes! For our most recent lunch club on 4th July, we organised a picnic in Burgess Park near the adventure playground. Over 50 people attended, bringing more than enough food to share (most of it secured via donations from local shops). It was a great atmosphere, with small circles of people relaxing and organising together under dappled shade.
We can only sustain and grow the lunch clubs with the help and support of others. If you'd like to help out collecting and/or cooking food, send us an email haslemail@gmail.com. Everyone is welcome, bring your friends, family and neighbours! Come along to a HASL meeting – you can find details at housingactionsl.org – If you have a housing or welfare problem, feel free to stop by, talk in confidence and take action.
by HASL – Housing Action Southwark & Lambeth | @HousingActionSL