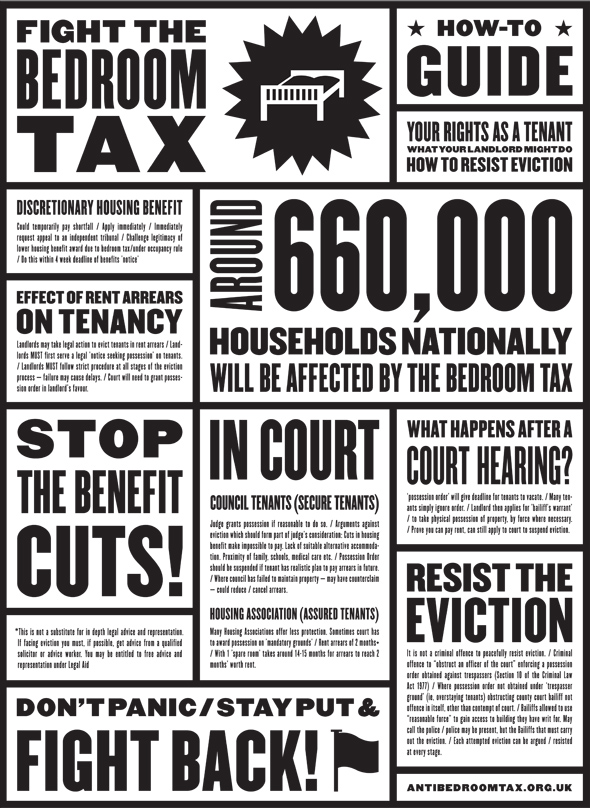 Download High Resolution Version | PDF | JPEG
FIGHT THE BEDROOM TAX

Your rights as a tenant /  What your landlord might do / How to resist eviction
DISCRETIONARY HOUSING BENEFIT
– Could temporarily pay shortfall
– Apply immediately
– Immediately request appeal to an independent tribunal
– Challenge legitimacy of lower housing benefit award due to bedroom tax/under occupancy rule
– Do this within 4 week deadline of benefits 'notice'
EFFECT OF RENT ARREARS ON TENANCY.
– Landlords may take legal action to evict tenants in rent arrears
– Landlords MUST first serve a legal 'notice seeking possession' on tenants.
– Usually 28 days notice of landlord's intention to go to court to seek possession
– Landlords MUST follow strict procedure at all stages of the eviction process – failure may cause delays.
– Court will need to grant possession order in landlord's favour.
IN COURT
Council Tenants (Secure Tenants)
– Judge grants possession if reasonable to do so.
– Arguments against eviction which should form part of judge's consideration:
– Cuts in housing benefit make impossible to pay.
– Lack of suitable alternative accommodation
– Proximity of family / schools / medical care etc.
– Possession Order should be suspended if tenant has realistic plan to pay arrears in future.
– Where council has failed to maintain property – may have counterclaim – could reduce / cancel arrears.
Housing Association (Assured Tenants)
Many Housing Associations offer less protection. Sometimes court has to award possession on 'mandatory grounds'
– Rent arrears of 2 months+.
– With 1 'spare room' takes around 14-15 months for arrears to reach 2 months' worth rent.
WHAT HAPPENS AFTER A COURT HEARING?
– 'possession order' will give deadline for tenants to vacate.
– Many tenants simply ignore order.
– Landlord then applies for 'bailiff's warrant' – to take physical possession of property, by force where necessary.
– Prove you can pay rent, can still apply to court to suspend eviction.
RESIST THE EVICTION
– It is not a criminal offence to peacefully resist eviction.
– Criminal offence to "obstruct an officer of the court" enforcing a possession order obtained against trespassers (Section 10 of the Criminal Law Act 1977)
– Where possession order not obtained under 'trespasser ground' (ie, overstaying tenants) obstructing county court bailiff not offence in itself, other than contempt of court.
– Bailiffs allowed to use "reasonable force" to gain access to building they have writ for. May call the police / police may be present, but the Bailiffs that must carry out the eviction.
– Each attempted eviction can be argued / resisted at every stage.