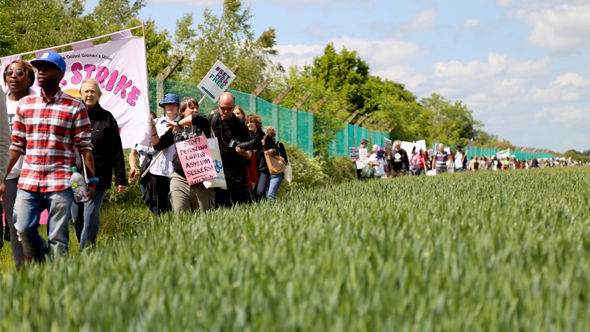 The demonstration at Yarl's Wood on Saturday June 6th was at its most powerful, and empowering, the moment the windows of Yarl's Wood Immigration Removal Centre came into view. At this point, the movement inside and outside of detention connected as one – visibly, and audibly. That was when the desire to see Yarl's Wood shut down became a real possibility in people's minds, because a united movement as determined to fight for justice as we were becomes an unstoppable force. We must continue making every effort humanly possible to build this movement – that is how we know we can win.
Movement for Justice (MFJ) received this text message from a young Yarl's Wood detainee, Marina, the day after:
"The protesting was amazing, I enjoyed every single moment. That was the time to let that anger out and put forward the craving for freedom. Yarl's Wood is such a confinement and a depressing place that detainees were hoping that protesters would break the gate so we could all escape, some even had their bags ready just in case. I am sure what we did will not be a waste. Thanks to everyone for such a great day."
The power and joy felt inside and outside the walls of Yarl's Wood was palpable. The hated fences and barbed wire were breached, and with it the power of intimidation that Serco and immigration authorities hold. These fences are seen by detainees every day, reminding them of their captivity. But on the 6th June we were reminded that what was built can also be torn down.
From outside we listened to the women shout, saw them waving handmade flags and written signs, and we joined them in chanting 'SHUT DOWN YARL'S WOOD'. Uniting together, inside and outside, we made history and together we have the task of fulfilling the promise of that demonstration; that those walls will fall.

How was the 6th June built?
MFJ leaders in Yarl's Wood had been planning and building up to that demonstration for several weeks. Resistance comes in many forms: it's letting new detainees know about what is planned; working out how to get the message across from inside to the outside; spreading the word about the demo; making signs, banners and placards; discussing how to deal with the bullying threats and sugar-coated enticements from management, designed to intimidate and distract, to re-establish the segregation of those detained in Yarl's Wood from the outside world.
On the 6th June the Serco management organised a surprise bingo contest with cash prizes followed by a disco to distract the women from the demonstration outside, and to drown out the chants. This attempt to avert attention from the demo only confirmed to the women how important this demo was going to be. The women's joy was enormous, as they watched hundreds and hundreds of people start to appear in the field between the torn down fence and the much larger one still dividing them. The women banged on the windows, shouted until guards told them to stop, then did so again and again.
Before setting off to see the detainees, we had heard some speeches speaking of those detained as victims – poor, brave women who need us to speak for them and act in their place. Too often detainees are portrayed as weak and their actions treated as secondary to the more important efforts of MPs, lawyers and celebrities, but this is not the truth. Defining detainees by vulnerability alone means undermining the enormous strength and capacity of detainees who are daily waging a fight for dignity and justice – some of our most important and dynamic leaders. Detention does intensify the vulnerability of those detained, especially due to the isolation and being deemed a liar. Yet it also puts together strong people in an intense situation that calls for dynamism and unity, with a shared cause. Winning means learning how to fight – not helping with how to cry. There are no knights in shining armour coming to ride in from outside and save the day, it's on us, on how we fight for ourselves and each other. Many of our best leaders are in detention right now, shedding illusions and leading through action. Relying on winning sympathy from a section of the rich and powerful is deluded; basing how we fight on that premise is a losing method which we cannot afford.
To win requires a mass, independent movement unafraid of the anger of the oppressed, based on the optimism we feel when we really fight to win, speaking the plain truth about racism, and mobilising collective power. MFJ is committed to organising with the detainees inside Yarl's Wood and all the detention centres.
We have to continue the work of organising inside the detention centres and we need people who can learn how to do that work, take part in collective visits, phone calls and develop the leadership of detainees.
We need to expand our organising into our communities in street rallies and demonstrations, and we need to organise in schools and colleges because our movement must be mobilising the most dynamic sections of our society and developing youth leadership of our movement.
So for everyone inspired and moved by the historic demonstration at Yarl's Wood on 6/6/15, now's the time to join MFJ, join us in building a mass, independent, integrated, youth-led, civil & immigrants rights movement that can win.
Movement for Justice | @followmfj | Facebook: movementforjustice | Pictures by Wasi Daniju
This call to action was first published on Movement for Justice's social media platforms after the June 6th demo. There was a further demonstration at Yarl's Wood on August 8th. The campaign continues.