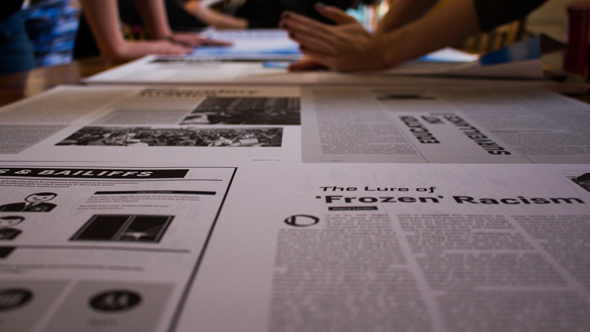 This publication has been around since 2011, in one form or another. For the past three years we have been propped up financially by a few large donations that have allowed us to print the past several issues. The printing costs for this current issue will take us to the very bottom of our piggy-bank, putting us in a situation in which we'll need to find new funds if we're to continue publishing.
We also haven't failed to notice the growing intervals between each issue we publish – an observation indicative of nothing as mundane as laziness (of which we boast only an average amount) but more as evidence of the increasing precarity and struggles that mark our lives and the context in which we're living them. This, together with the fact that we're happy to break a print cycle determined by routine or regulation in favour of a timeframe more in tune with the articles we seek to publish. As individuals, collectively, we're experiencing the continual redistribution of time and energy, swallowed up in childcare, labour, uncertainty, the constant struggle for well-being and nominal safety, and political activities that feel ever more urgent and necessary. These constraints on our time have also led us to examine what is urgent and necessary about the publication in the hope that, going forwards, it can even better compliment and work with local political activities and organising on a day-to-day basis.
With the ebbs and flows in time and energy we can dedicate to this project, but with the resolute desire to develop our production, our small collective has been thinking about ways we can sustain the quality of the publication whilst increasing the frequency of information and analysis we feel compelled to circulate. As with other gradual reconfigurations the OT has undergone over time, in what we produce and how we produce – whether it be content, design, method, etc. – we are keen to further experiment with the form our production takes. Our hope is that by experimenting with changes in format, style, and our digital output, along with the impetus of new print funding, this will allow us to continue to share stories, experiences and inquiry through the OT. In practical terms, this will likely lead to an increasing flexibility and tighter focus on the kinds of physical media we produce and a less rigid production model.
The kind and encouraging donations we receive from people, and hope to continue to receive, will allow us to make this happen and continue with the project. All the money we collect goes towards producing the OT. Our only costs are: the printing of the physical publication, web hosting, the taxi fare from Aldgate Press to take the printed issue down the road to fold and store at the London Action Resource Centre (LARC) and a regular donation towards the upkeep of LARC. This will not change. It costs around £600 for a 2,000-copies print run of a 20-page issue, and although we are exploring different ways of sharing information across our platforms, we would still very much like to continue to print the OT, in whatever form it takes, as many readers have expressed their enjoyment of having the paper copy to read, share and archive.
We are therefore asking for donations to keep the OT in print, with a rough ballpark figure of £2500 that should keep us going for the foreseeable future.
If you would like to make a donation to support the continued publication
of The Occupied Times, please use the secure Stripe payment form below to pay by
direct debit straight to our account:
[stripe name="The Occupied Times" description="Donation"]
[stripe_amount label="Donation Amount:" default="500″]
[/stripe]
Enter the amount you'd like to donate in the payment box first, then click Card Payment to enter card details in the secure pop-up. The default amount displayed is £5. If your payment fails, don't worry, some banks have overzealous fraud measures and cannot be processed using this payment system (this is even more likely in bank accounts held outside the UK). See below for alternative payment methods.
Alternatively, we can receive payments via PayPal or by cash/cheques to this address:
The Occupied Times
c/o 56a Infoshop
56 Crampton Street
London
SE17 3AE
A big thank you to everyone who has read and contributed to the publication over its first five years. We hope it continues to provoke thought, discussion and action, and to be of use to the wider movement.
With love and solidarity, from the OT Collective.