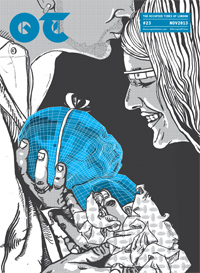 The twenty-third edition of The OT comes out this Monday 18 November, in which we turn our eyes to the role of Technology. A number of pieces investigate multiple aspects of the machines and networks that shape our world. McKenzie Wark asks: 'How might the surplus of time, of information, of life itself, be organised differently?' Geert Lovink and Ned Rossiter describe the potential which lies within the network. There are also some pieces written by our editorial collective. Written in two parts, The Way We Live Now provides a detailed breakdown of the digitised political economy whilst another of our editors attempts to demystify some of the techno-babble surrounding recent NSA revelations.
Our regular interview series, Preoccupying, features Eleanor Saitta, who draws from her experience of describing and constructing complex systems. The interview touches on a number of themes ranging from the battle between centralisation and decentralisation to the importance of telling better stories of the network.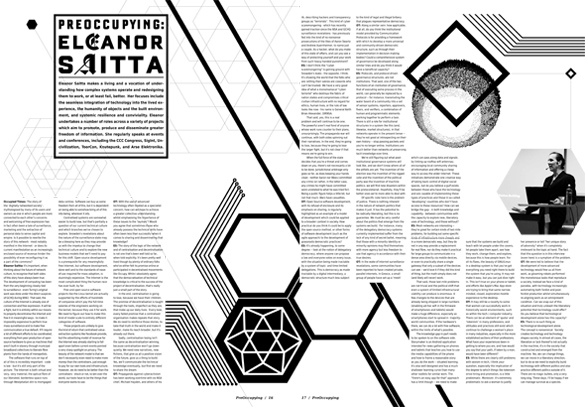 In our international coverage, one piece looks at the recent rightward trajectory of Norway, a shift that unlike many others across Europe hasn't ridden on the back of an austerity programme. Another, written by Oksana Chelysheva, highlights the struggles being fought by large numbers of political prisoners in Russia.
Our now regular infographic feature continues. How to Combat Online Surveillance provides an introduction to the topic of online security, offering several pieces of software for people wanting to better obscure their online activities. We hope people are motivated to play and experiment, but don't trust your life to what is only a very introductory guide!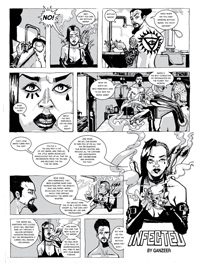 Ganzeer, an Egyptian artist who gained notoriety following the 2011 Egyptian Revolution, has provided both the cover for this issue and Infected, a full page comic on our inside back cover.
Copies of OT23 will be distributed at events and within communities throughout the next three months. You can also find us on the shelves of various outlets across the capital, including Housmans,Ray's Jazz Cafe, Banner Repeater, 56a,Freedom Bookshop and the London Review Bookshop. The full list of stockists can be found on the OT Stockists Map on our website.
Follow the OT on Twitter at @OccupiedTimes, Facebook at The Occupied Times, or visit our website at TheOccupiedTimes.org