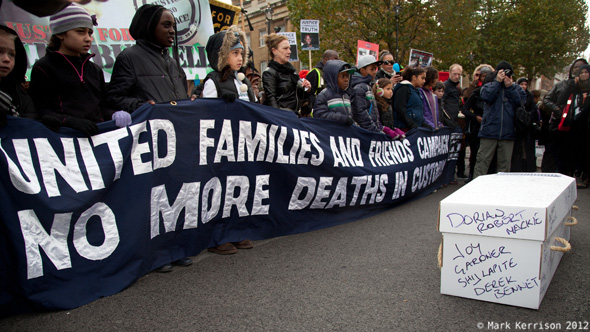 The most significant changes in mental health legislation in a generation were made with the introduction of the 2007 Mental Health Act. At the time, Black Mental Health UK (BMH UK) publicly stated that the new measures within this law would be a matter of life and death for black Britain. Seven years later, in the wake of the Sean Rigg inquest verdict, and with the families of Olaseni Lewis, Kingsley Burrell-Brown and Leon Briggs awaiting an inquest hearing or criminal trial to find out how all these physically healthy men lost their lives while in the care of mental health providers, it would appear that BMH UK's warning has become a reality, with the most vulnerable paying the price for systemic failings.
During the heat of the parliamentary debate over the 2007 Mental Health Act, the eminent psychiatrist and academic, Professor Suman Fernando, publicly rejected an OBE in protest at the racist provisions within the legislation. In a public letter to the former Prime Minister, Tony Blair, he said: "failure of mental health services to meet the needs of BME communities results from institutional racism and injustices are evidently mostly in the experiences of black Caribbean people who are disproportionately sectioned and subjected to inappropriate – often damaging – 'care'. The very least the Government can do is amend the Act to include a set of principles that will minimise the risk of injustice.''
Rather than ensuring that the legal duties within the Human Rights Act and the former Race Relations Act at the time were included in the law, health officials refused and instead included them in a Code of Practice, which has proven ineffective at protecting patients' rights in the face of discrimination and/or abuse. This is borne out by data which shows that, while black people do not have higher rates of mental illness than any other ethnic group, they continue to be disproportionately locked up in the most secure parts of the mental health system and subject to highly coercive and punitive treatment that in too many cases has resulted in fatal consequences.
A series of mental health census reports published from 2005 to 2010, entitled Count Me In, were commissioned in the wake of the death of David 'Rocky' Bennett, who lost his life after he was restrained by a team of five staff members for over 25 minutes, back in 1998. The data from these reports exposed the stark difference in the way black people are treated when detained in psychiatric care. Black people are 44% more likely to be subject to detention under the Mental Health Act than their white counterparts. Once 'in the system', black people are more likely to be given a diagnosis of schizophrenia or psychosis, be restrained by staff, forcibly medicated and placed in seclusion.
Such practices cannot be separated from the disturbing numbers of preventable fatalities that occur in this sector. Indeed, official figures show that people in the care of mental health services account for 60% of all deaths in custody, far outstripping that of fatalities within police custody or the prison system. Figures from the government's Independent Advisory Panel on Deaths in Custody report published in 2011 show that, in total, there were 5,998 deaths recorded for the 11 years from 2000 to 2010. This is an average of 545 deaths per year.
Coercion and compulsion typify the black patient experience, particularly in relation to the use of restraint. The relentless campaigning by bereaved families who have lost loved ones after they were restrained, as well as public outcry at the number of fatalities, has turned this into a national concern. The current minister responsible for mental health care, Norman Lamb MP, met the bereaved families of Kingsley Burrell-Brown, Sean Rigg and Olaseni Lewis and, on the back of this and the work of campaigners, ordered a review into methods of restraint used in mental health settings, publicly stating that "it cannot be acceptable in a civilised society to be treating people who are unwell in this way."
With people who use mental health services accounting for 50% of those who lose their lives in police custody, this issue has been one that the Home Office has also been forced to address. BMH UK has been privy to a letter from Theresa May ordering Tom Winsor, the Chief Inspector of Constabulary, to look into this issue following "growing ministerial concerns about the number of black men who have died" in police custody.
BMH UK's campaign against black deaths in custody is part of our work to end this injustice against one of society's most marginalised and vulnerable groups.
We are calling for:
1. Independent judicial inquiries into all preventable deaths in psychiatric settings and an end to deaths in custody.
2. A government commitment to outlaw use of control and restraint in mental health settings.
3. An independent public inquiry into black deaths in custody.
Please visit www.blackmentalhealth.org.uk to find out more.
By Matilda MacAttram, director of Black Mental Health UK and a fellow of the Office of the High Commissioner for Human Rights United Nations Working Group of Experts on People of African Descent