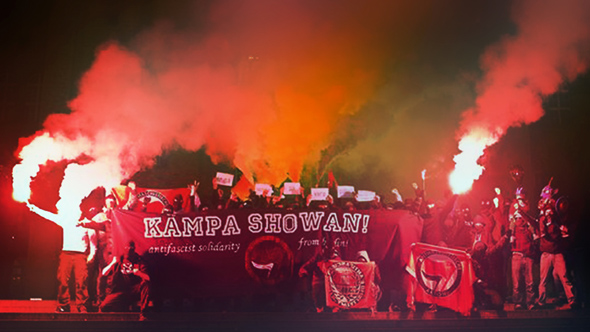 On the night of the 8th of March, six feminists returning from an International Women's Day event in Malmö Sweden were attacked by armed members of the fascist Svenskarnas Parti (Swedes Party). The attack hospitalised four people, placing one person in intensive care with serious head injuries, while a further three suffered knife wounds to the arms and lung.
The attack occurred as political upheaval in Ukraine appears to have presented a more prominent platform for  activity and violence from the far right across the continent. Witness statements from the incident suggest that one of the attackers is a prominent figure in the Svenskarnas Parti – which has strong ties to Ukraine's Svoboda – and has been active in co-ordinating far right promotion in Sweden.
At the state level, Sweden's Foreign Minister Carl Bildt said in a recent interview that the Swedes Party's sister party Svoboda is comprised of "European democrats who work for values that are ours". Elections this September are expected to see participation from these parties.
A statement responding to the situation authored by a number of groups calls to extend solidarity beyond well-wishing, adding:
"The attack on our comrades in Malmö angers us also because it resonates with our experiences here. The trivialization or outright silence about this attack in the media mirrors our own experience of having our voices, raised in defiance of the violence of fascists or the police, ignored or marginalized. The police's victim-blaming, equating anti-fascist and feminist activity with the cynical political terror practiced by fascists, is also distressingly familiar. That fascist victories in Ukraine, rubber stamped by governments in Western Europe, have translated so rapidly into violence in other parts of the continent is of concern to all of us.
Your struggle is our struggle. The popular mobilizations across Sweden in the last few days remind us, once again, that practical solidarity, mutual aid, and organisation are our greatest defence against violence calculated to intimidate and silence us. We will express our solidarity with our comrades in Malmo in the coming weeks, months and years by continuing our struggle against the fascist presence in our streets and in the halls of power."