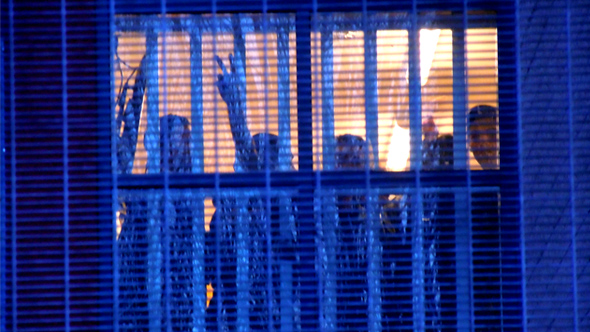 Harmondsworth Immigration Removal Centre
Harmondsworth Immigration Removal Centre (IRC) has been described as the Guantanamo Bay of the British Isles. The parallels are irrefutable: a high-security prison where people are detained without trial or 'usual' judicial processes, numerous reports of abuses perpetrated by custody officers, and the routine deprivation of human rights are rife in both prisons.
One in five asylum seekers at Harmondsworth are held under Detained Fast-Track processes (DFT). These processes bestow the Home Office with powers to rush through decisions about asylum seekers' rights to remain in the UK, resulting in a rash flipping of coins on human lives for the sake of 'administrative' convenience. Under DFT, the delicate assessment and analysis of an asylum seeker's claim is sped through in 14 days. Claimants from a politically crafted 'white list' of countries, including Iran, Afghanistan and Uganda, are automatically processed through DFT, with a nuance that claims from white list countries are "more likely to be false." The number of cases processed under DFT has doubled in the last 12 months – now totalling 400 out of a total of 615 people detained at Harmondsworth at any one time.
Reports conducted in 2011 and 2013 by Detention Action describe how DFT satisfies political agendas by operating to the maximum disadvantage of asylum seekers at every stage. The process is currently "preventing [asylum seekers] from accessing the advice and evidence needed to properly present their case." In reality, the conditions and timescales of DFT processes make it impossible for many asylum seekers to understand or be able to actively engage with the determination process.
Detention Action, represented by the Migrant's Law Project, have been challenging the legality of DFT since 2013 and, to date, the High Court has ruled two elements of the process (the scant provision of legal aid and the detention of people not at risk of absconding) to be entirely unlawful. Despite this, DFT continues to operate, and arbitrary targets are blindly pursued at the cost of individual human lives.
The 99% refusal rate for asylum claims dealt with through this process is jubilantly brandished by politicians as evidence that they are making inroads into their intended depreciation of 'net migration'. The reality is that despite the coalition government's supposedly 'deterrent' immigration detention system, it has failed to cap net migration. In fact, EU migration has continued to increase, whilst immigration from outside the EU is now down to its lowest level for many years, and yet the populations within immigration detention and on DFT are disproportionately composed of non-EU nationals. When the reality of immigration detention falls so far from its stated aims, pertinent questions about who stands to benefit need to be asked in order to begin untangling the real intended and designated purpose of detention. One possible answer lies in the fact that immigration detention sits at the cutting edge of profit-making privatisation. The Home Office outsources the running of centres and deportations to multi-national companies and global corporations, among them Serco, Tascor, GEO, Mitie, and the notorious G4S.
On DFT, asylum seekers are hurried through a system which does not prioritise their safety, despite having fled unthinkable traumas, and travelled across land and sea in horrific conditions. Rule 35 of the 2001 Detention Centre Rules, which is supposed to protect asylum seekers who have been tortured or trafficked from detention and further trauma by exempting them from the deportation conveyor-belt of DFT, is routinely breached. A 2011 report conducted by Chief Inspector of Borders and Immigration John Vine, slammed Harmondsworth for providing "insufficient safeguards to prevent people being incorrectly allocated to [DFT]."
The abuses of the UK's immigration process do not end with DFT. Harmondsworth has been repeatedly criticised for its poor healthcare provision, and reports of mental health issues, heart complaints and soaring high blood-pressure being treated with paracetamol are common. In 2012 Muhammad Shukat died shortly after being moved from Harmondsworth, and an inquest jury decided that neglect had contributed to his death. Staff at the healthcare unit had failed to obtain his medical records, which could have provided "significant information that could have assisted healthcare staff… on the morning he died." Independent reports conducted in the following year also unequivocally state that health service staff are not trained in torture recognition. These conditions make the centre absolutely ill-equipped to identify those who should be protected under Rule 35.
A Ugandan LGBTI asylum seeker deported in April 2014 revealed that detainees in UK detention centres are treated as if they have committed an "abominable crime." Detainees have limited access to emails or the internet, and camera-phones are confiscated and replaced with basic handsets with poor sound quality, making conversations with lawyers and other support networks very difficult.
Procedure at Harmondsworth follows that of a high-security (Category B) prison, despite the European Court of Human Rights ruling that detention would only be acceptable for around seven days, in low security settings. Detainees are subject to reprisals such as 'the block' (solitary confinement) – a punishment described as being "used excessively" in the 2013 HMP inspector report. The same report reveals the majority of detainees to have stated that the food at Harmondsworth is of a poor standard and that some are not even provided with full bedding.
In addition, Harmondsworth boasts the highest rate of deaths across all IRCs on the UK detention estate. In February 2014, 84-year old Alzheimer's patient Alois Dvorzac died in handcuffs at Harmondsworth, despite medical notes declaring him unfit for detention or deportation. The HMP inspector's report in 2013 confirmed that in a majority of cases at Harmondsworth, "insufficient weight was given to doctors' opinions as to fitness for detention."
Some UK campaign groups have called for a time limit to immigration detention. Whilst the sentiment behind this campaign broadly seeks to support those detained, it also fails to acknowledge that immigration detention is in itself racist, classist, and a political profit-making strategy, and should consequently be abolished completely. Any attempts to reform or improve immigration detention will absolutely aid the continuation of the violence it enforces on those detained.
In spite of the oppressive structures which seek to silence and mute the voices of people in immigration detention, there is a continuing surge of collective resistance both inside and outside of centres, in reaction to abuses in immigration detention. On Friday 2nd May 2014, over 150 detainees went on hunger strike and staged a sit-down protest in the exercise yard of Harmondsworth. Their demands were straightforward: access to legal aid, better medical care, and an end to DFT.
On Monday 5th May 2014, supporters rallied outside the centre, conducting a noise demonstration in solidarity with the strikers. By Wednesday 7th May, dozens of detainees who had protested were issued with deportation orders. On the same day, unrest spread to Colnbrook IRC, Campsfield House, and Brook House. Protesters were placed in solitary confinement, or removed to other centres and consequently lost contact with supporters.
Independent film company 'Standoff Films' continues to uncover the 'unsettling realities' experienced by people who 'speak out' in immigration detention, for example, the situation which emerged from Campsfield House, in which a detainee was physically beaten by riot squads for speaking to journalists after a fire at the centre spread. It was discovered that outsourcing firm Mitie had failed to install sprinklers.
Every month since the May 2014 protests, ex-detainees and supporters organised by grassroots solidarity group Movement for Justice have returned to Harmondsworth to amplify the demands of the protesters. The demonstrations call for an end to fast-track deportation procedures and immigration detention.
Of course, the situation of UK immigration detention does not sit within a vacuum. Whilst the UK is the only country in Europe which practices the indefinite immigration detention of individuals, in February 2014, the Legal Council of the Greek State proposed a new 'indefinite detention before repatriation' policy, which is still awaiting a response from Greek authorities. This worrying slide towards stricter controls is in line with the European Commissions' 'Return Fund' (RF) arrangement. RF finances most European immigration control projects, including 'Assisted Voluntary Return' programmes in the UK. Amygdaleza, a detention centre near Athens which holds over double the amount of people held at Harmondsworth (and double its own capacity), has long been criticised for its harsh conditions and low asylum application approval rates. In 2013, detainees protested against the extension of their detention terms, resulting in the arrest of more than 50 migrants in the centre. In the wake of the suicide of a detainee in Amygdaleza on 13th February 2015, at the time of going to press, Greek Minister Yiannis Panoussis from the country's new governing party Syriza has pledged to shut down its immigration detention centres. During a visit to the centre, Panoussis stated "I came here to express my embarrassment. We are done with the centres of detention".
In January 2015 an immigration detention centre on Manus Island, Australia, hit the news when 900 detainees went on hunger strike – with some swallowing razor blades and others sewing their lips together. Earlier this year, protesters interrupted the men's final at tennis' Australian Open with a banner proclaiming "Australia Open For Refugees", and a week later passengers on a Qantas flight refused to put on seat belts after learning that a Tamil deportee onboard was being removed against his will to Sri Lanka.
The reality of immigration detention as a profit-making factory lining the pockets of companies such as G4S and Serco does make it an ambitious beast to lock horns with. As Sharif, an ex-detainee who was initially put on DFT, says: "It does not surprise me that the Home Office have got away with it". Despite, and perhaps because of this, for as long as detention centres remain, the movement of resistance against these centres will continue to expand and demonstrate solidarity with all migrants who are detained, deported, and pushed through the 'Fast-Track' factory.
By Leah Cowan | @La_Cowan
*updated version of an article originally published on Jul 2, 2014.