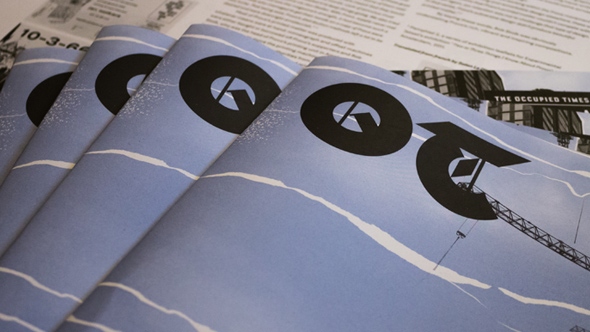 Two issues of the OT were produced in 2015: Discipline, States, Borders (#27) and Militant Care (#28), as well as other content published as online-only pieces. The publication is produced in common by the OT collective, and relies on the voluntary efforts of its contributors, as well as everyone who reads, shares, distributes, prints and funds it through donations. We would like to say thank you to everyone who has supported the OT in 2015. The following are the ten most read articles published on our website this year.
Endless Accumulation, Endless (Unpaid) Work? | By Jason W. Moore (@oikeios)
In this essay, Jason W. Moore proposes a theoretical model to synthesise the relations of capital, power and nature through both production and reproduction, understanding capitalism as a "world-ecology".
Critical Cartography | By Rhiannon Firth (@rhifirth)
An overview of the power relations laid bare by a critical approach to mapping. Drawing on many examples, Rhiannon Firth details the liberatory potential in negotiating the spaces we share.
Ecstasy & Warmth | By @aut_omnia
A personal perspective and an account of social and collective life within struggle; the warmth to be found in one's affinities – and the reach for the ecstasy beyond us.
Detained: Voices from Amygdaleza | By @rozkarta
Direct, verbatim testimonies from detainees inside Amygdaleza Migrant Detention Centre in Greece.   
The Struggle of Fatsa | By @karadenizisyan
Residents of Fatsa, a small Turkish town on the shores of the Black Sea, are battling against a gold-mining project that is already ravaging their environment and threatening their way of life.
Algorithmic Force & Fascism | By Dan McQuillan (@danmcquillan)
Dan Mcquillan explores the threat posed by the apparatus of governance surrounding big data and the potential correlation between algorithmic force and the politics of the far right.
The Supermax in Wrexham | By @dreluise & @RaphSchlembach
An overview of the British state's current reorganisation of the prison system, the roots of what has been a steady carceral expansion & the seeds of a movement to fight back.
Urban Struggle London 2011-2015 | By The OT collective
The OT collective attempted to map varied forms of urban struggle which have taken place across London over the past few years.
Contemporary Crisis & Workers Control | By Dario Azzellini
A heavily condensed and edited version of a chapter from Dario Azzellini's recent book,"An Alternative Labour History". There is a link in the article to a pdf of the full chapter.
How Will Surrogates Struggle? | By Sophie Lewis (@lasophus)
Sophie Lewis sheds light on the murky terrain of the global surrogacy industry, and the complex labour rights and working conditions of those whose labour is childbirth itself.