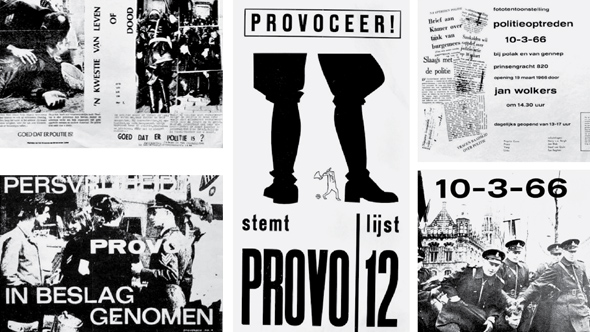 The Amsterdam-based counterculture movement, Provo, first emerged in the city's Spui square in 1965 where artist and magician Robert Jasper Grootveld held his ritualistic "happenings" in, as always, a pro-pot, anti-tobacco and advertising-free setting.
Provo began in Amsterdam but it later spread to other cities in the Netherlands, Belgium, Sweden, Germany, a number of Italian cities and even the United States. In the Netherlands of 1965, it quickly became the talk of the town: a youth movement combining art and politics and its actions were shaking up the country. Provo is now considered one of the first major countercultural political movements of the late 1960s.
Provo was named after a term coined by Dutch author Wouter Buikhuisen in a Criminology PhD thesis completed in January 1965. In this study, Buikhuisen uses the word ''provo'' to refer to one of the subjects of his paper: marginalised groups of young people, street-oriented youth, dropouts or other Dutch equivalents of Britain's "teddy boys" and France's ''blousons noirs''. But make no mistake:
Provo's motivating force and outlook had little to do with brawling and gang rivalry and its members were not ones for street fighting.
And yet, by choosing the name ''provo'' for his movement, Roel Van Duyn, one of Provo's founding members was sending a firm, openly provocative message of opposition to Dutch society. This came as no surprise given that Provo's earlier pamphlets were rooted in anarchist thought, were well-versed in the work of Bakunin and poured scorn on the sense of ownership and the Dutch monarchy
From the spring of 1965 to 1967, Provo went from being a small group of members to a large scale movement. Two years after it was set up, the group self-dissolved in May 1967. Though Provo's years of activity were short-lived they marked a milestone in the history of European protest movements from the second half of the 20th century.
Provo's birth certificate seems to have taken the form of a signed tract dated May 25th 1965. Provo's Provokaties (''provocations'') were released a month later and a huge number of facts were made public in these small printed posters. Some of the printed matter that Provo issued struck
a painful chord: Princess Beatrix's marriage to a former Wehrmacht soldier, confidential reports on the levels of pollution in the air as well as the Queen's fake abdication speeches. A few days after releasing their Provokaties, Provo's eponymous newspaper's very first issue was released, on July 12th 1965.
Provo's ideas were largely spread in the streets through "happenings" and other themed events but the group's history was also very closely linked to the production of printed material: flyers, posters, placards and magazines were produced in large quantities. The variety of printed resources probably totals a fairly high number, of which the following are but a conservative estimate: 50 different magazines in the Netherlands alone and more than 15 different ones in Belgium. Most of these magazines reached only five issues. In 1965, the group's initial productions were held in confidence (Provo's first issue was printed at an estimated circulation of 500 copies, of which 400 had been confiscated). By 1967, some of Provo's printed matter had reached substantial quantities (1000 to 10,000 copies) meaning that specific methods of distribution had to be put in place. Provo's members, supporters and friends had taken on this task and were selling copies of the magazine in the streets.
Rob Stolk describes Provo's distribution methods:
''Soon enough, it became clear to us that Provo's distribution was solely dependent on our ability to produce it. Demand was high [… ]. The print run of Provo's later editions reached 10,000 copies. These copies had been partially paid for. When a new Provo rolled off the press, youngsters would take piles of magazines with them. Loe Van Nimwegen (Provo's printing administrative  member) handed each of them 25 copies. They sold those copies for 70 cents or so and had to pay us part of that sum of money. Of course, some of those guys never came back, others just kept on selling Provo. Some of them sold a couple of hundred copies on a single day; this meant that they would have enough money to last the entire month. Lack of stimulus must have been the problem: we needed it to keep things going. We also tried to distribute the magazine via Van Gelder. With Provo, supply never met demand and that was the magazine's strength, it had become such a curio: those who managed to get their hands on a copy of Provo were very lucky. That being said, Provo's distribution methods left a lot to be desired and were downright amateurish.'' *
Most of Provo's printed matter was produced with whatever means were at hand: mimeograph and offset machines were either bought or borrowed off Provo's supporters and Rob Stolk, who was the head of Provo's printing unit in Amsterdam remembers having to move the printing machines on numerous occasions so as to prevent the authorities from seizing the equipment. On other occasions, Provo used printing presses that other newspapers were using at the time: De Volkskrant's press was used to print ''De Teleraaf'' (''raaf'' is the Dutch term for ''crow'') which parodied the reactionary newspaper ''De Telegraaf''.
Considerable budget and time constraints meant that the magazine's layout was often treated as a low priority. Yet, as a result, the combination of illustrations, photographs, manuscripts, typescripts and newspaper cuttings gave Provo's overall composition a rich and diversified tone.
''The magazine's layout and design matched the aesthetics of a certain type of culture: that of non-commercial design. Provo was a strong reaction against annoying and boring mainstream printed matter,'' says Rob Stolk.
Provo's printed matter often received very little care and attention. However, this wasn't always the case. Experienced designers were also working within the Provo movement and some of these people were producing exciting images.
Notable works include illustrator Bernard Holtrop (Willem) 's satirical drawings and caricatures. Holtrop often worked with Provo and was also the head of the ''God, Nederland & Oranje'' newspaper which was printed by Holtrop at the time. Other notable designers include Kees Graaf and Iris de Leeuw (who was designing graphic content for ''Ontbijt op Bed''). Graaf and de Leuw were members of Luuks, Provo's group in Maastricht.
Their work was eye-catching and characterised by its striking use of colour and silk-screen printing. Among those who dealt with the printed page were some of Provo's most active members: Rob Stolk, Roel van Duyn, Hans Tuynman, Olaf Stoop, Auke Boersma, and many others. Most of their graphic contributions involved producing and assembling hand-written texts though these were not elements one would come across in elaborate or even conceptual design.
''Some of the designers working within the Provo movement were producing stunning and remarkable design elsewhere: these were costly productions that Provo's printed matter couldn't compete with. But then again, our intention was not to challenge that type of design. In that sense, Provo's subversive design didn't produce beautiful printed matter.'' *
By saying these words, Rob Stolk was obviously understating Provo's rich, vibrant and inspiring compositions.
By Jil Daniel | @BizYod | Translated from french by Solen Le Dizez
* Pamphlet 2, a series of exhibition leaflets for Experimental Jetset's exhibition ''Two or Three Things I Know About Provo'', W139, Amsterdam, 2011.