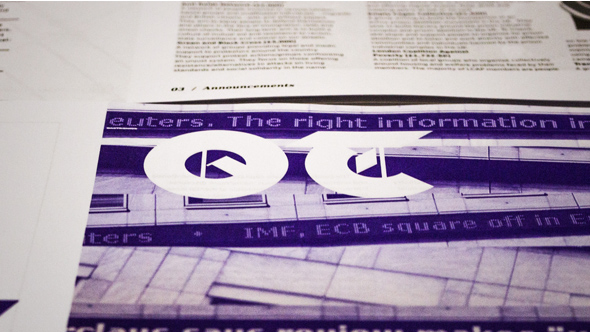 Three issues of the OT were produced in 2014: The Politics of Madness (#24), Art & Gentrification (#25) and Apocalypse Νow? (#26). The publication is produced in common by the OT collective, and relies on the voluntary efforts of its contributors, as well as everyone who reads, shares, distributes, prints and funds it through donations. We would like to say thank you to everyone who has supported the OT in 2014. The following are the ten most read articles published on our website this year:
Good For Nothing | By Mark Fisher
A moving and revelatory essay, linking the personal struggle of depression to wider social forces.
The Psychological is Political | By Joanna Moncrieff / @JoannaMoncrieff
Another powerful rejection of the prevailing tendency to separate mental suffering from its political and economic context.
Preoccupying: Silvia Federici | Silvia Federici
Our interview with the feminist theorist, writer and organiser, Silvia Federici, covering subjects ranging from the nuclear family to witch-hunts, from Wages for Housework to the commons.
The Really Dark Internet | By Eugenia Siapera / @eugeniasiapera
An exposition of how state and corporate institutions infiltrate, obfuscate, patrol and police social media.
Escaping The Asylum Mentality | By Rufus May / @RufusMay
"…we need to give up thinking in terms of mental illness and mental wellness as either/or categories. We all have delusions and anxieties, we all suffer, yet we also all have moments of awareness and great wisdom."
Aesthetics of Gentrification | By Matt Bolton / @Matatatatat
An exploration of the role art plays in gentrification, via the Bowery, Brixton and the work of Walter Benjamin.
Towards a Revolutionary Psychology | By Mihalis Mentinis
The revolutionary psychology developed through the Zapatista struggle demands a total rupture from the psychology produced in the subjects of late capitalism.
Social Cleansing in Southwark: Urban Frontier | By Tom Gann / @Tom_Gann
On the forces underlying the gentrification culture rapidly taking over the South London borough of Southwark, but also applying further afield.
Collected Works of Marx & Engels | Hosted by @libcomorg & @OccupiedTimes
On May Day, in response to Stalinist Publisher enforcing its copyright over access to MECW, Libcom and the OT took action to re-host these texts to maintain free online access.
I Kissed a Tory (and I Liked it) | By Huw Lemmey
A call for an infrastructural examination of sex, taking into account the creative and democratic possibilities of urban space.